Prefectural Gongendo Park aims to be a "park that serves as a base for recreation and a place to interact with the water" by utilizing the waterside space of Gongendo Reservoir and Satte Gongendo Sakuratsutsumi, which is famous for cherry blossoms.
This park consists of four parks, each with its own characteristics : Park No. 1, which is a multi-purpose sports field; Park No. 3, which has history, culture, and greenery; Park No. 4, which is Satte Gongendo Sakuratsutsumi; and Park No. 2, which is for recreational purposes.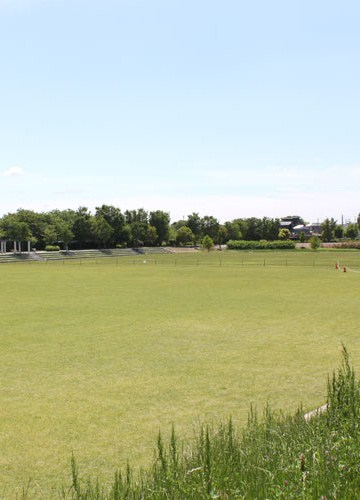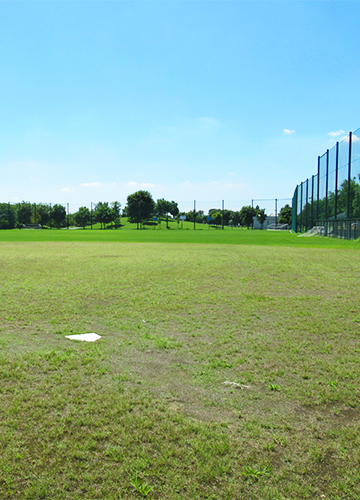 Multi-Purpose Sports Square (Park No. 1)
The Multi-Purpose Sports Square (No. 1 Park) is located on the northernmost side of the prefectural Gongendo Park in a zone spanning Satte City and Kuki City (former Kurihashi Town).
This park, which was fully opened in April 2011, has a ball game ground where you can enjoy youth baseball and ground golf, a multi-purpose plaza with a large lawn, and playground equipment such as a large sailing boat. It is crowded with many families with children on holidays.
About paid facility (ball game square)
・Youth baseball ・Soft ball ・Ground golf ・Youth soccer ・Sports recreation

・Ground golf ・Sports recreation

・Ground golf ・Sports recreation
※ Usage time is 1 hour.
・When using baseball, softball, or soccer, we ask that you use full area.
・The usage fee for those who have an address outside the prefecture shall be the amount obtained by adding 50/100 to the corresponding amount.
・We are exempted a fee When person corresponding to "Ordinance on Reduction of Usage Fees and Usage Fees for Public Facilities for Persons with Disabilities (1983 Saitama Prefectural Ordinance No. 8)" and "Ordinance Enforcement Regulations Concerning Reduction of Fees and Fees for Use of Public Facilities for Persons with Disabilities (1983 Saitama Prefectural Regulation No. 32)" . "Applicable person" refers to "the holder of either a physical disability certificate, a rehabilitation certificate, or a mental disability certificate and one caregiver."
・Exemption is possible when used for projects sponsored by the national or local governments.
・When used for projects co-sponsored by the national or local governments, half of the amount shown in the table can be used.
・Exemption may be granted when used for an executive committee-sponsored project run by a local government.
・For events sponsored by schools based on the School Education Act and child welfare facilities based on the Child Welfare Act, half the amount shown in the table will be charged.
・When used for mass media (newspapers, television, radio, publications, communication information services, etc.), exemption may be granted if it is deemed to contribute to the PR of Gongendo Park.
・Reservations are accepted from the first day of one month before the date of use.
・Please apply at the Gongendo Park Management Office (No. 1 Park).
・Reception hours are the same as the opening hours.
・Please pay the usage fee in cash at the management office on the day of use.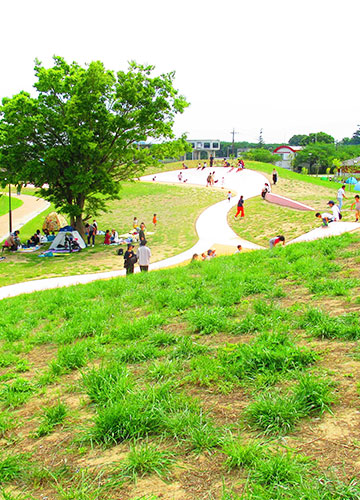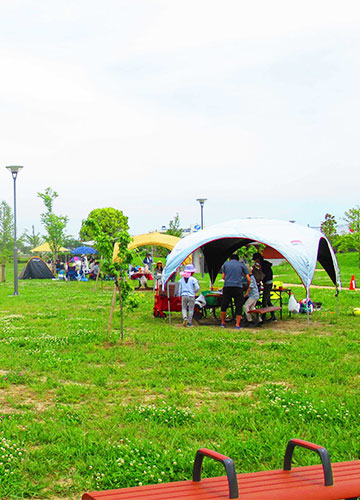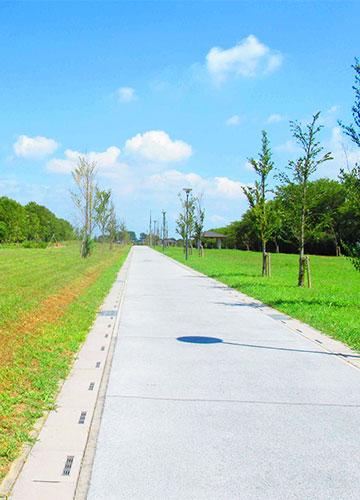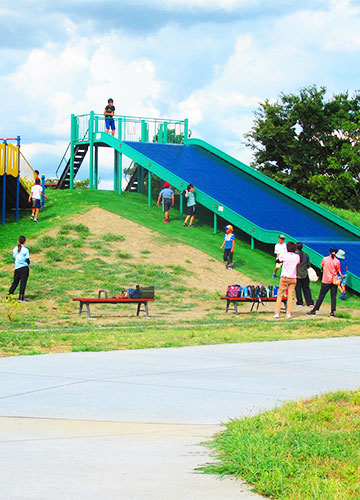 Park No. 2, which opened on October 2022, is a recreational park,
with a day campsite on the north area with washing facilities and four large scale playground equipment for families and groups to relax on the south area.
In addition, the round trip between the playground area in the south area and the grassland area in the north area is about 1.5 kilometers, making it ideal for walking and jogging.
As a disaster prevention park, it also has a heliport and 8 stove benches, so it will be a primary evacuation site in the event of a disaster.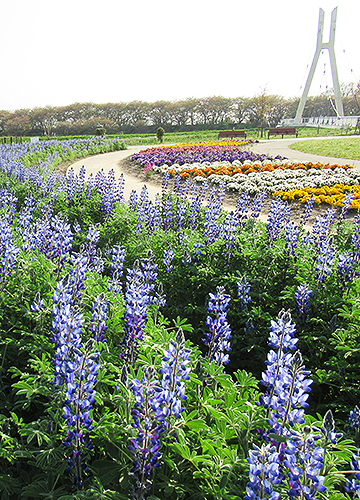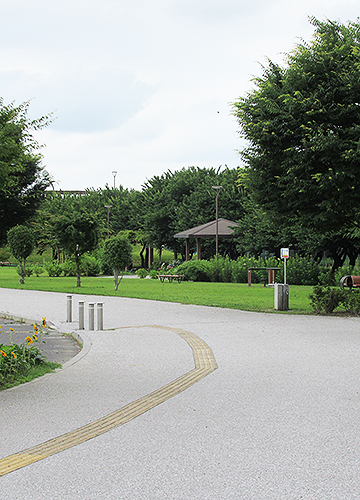 It is a green park with the theme of "Manyou Park with history and culture".
Please use it as a place to relax while admiring manyo flowers such as plum, bush clover, and fujibakama.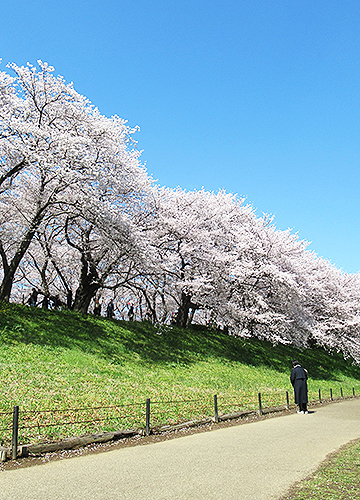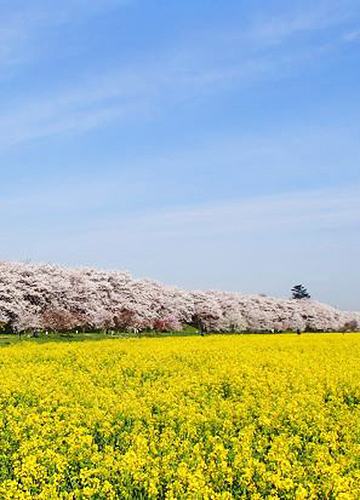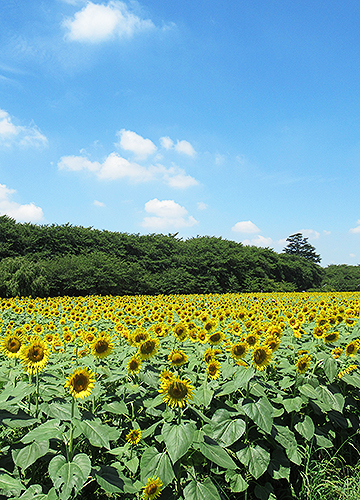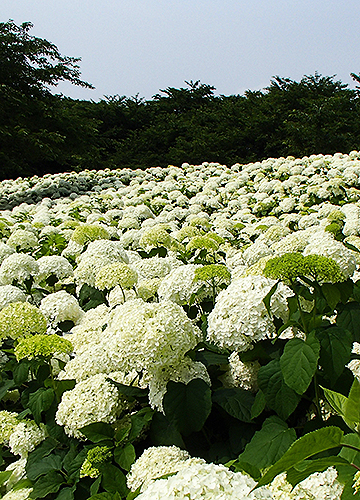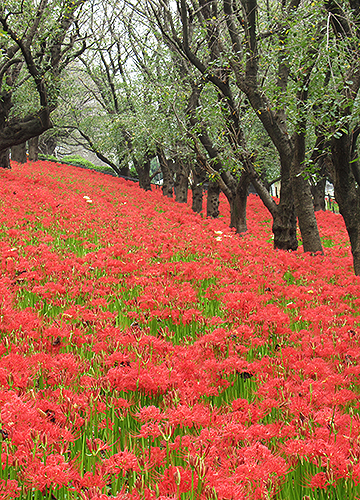 Satte Gongendo Sakura Tsutsumi (No. 4 Park)
Satte Gongendo Sakura Tsutsumi is one of the most famous cherry blossom viewing spot in Kanto region. Approximately 1,000 Yoshino cherry trees are in full bloom along the bank for 1 km. Also, hydrangea in June, cluster amaryllis in September, and about 500,000 daffodils in January are at their best. You can enjoy Gongendo Sakura Tsutsumi all year round.
In the middle of Sakura Tsutsumi, we have set up "Tougenochaya" where you can take a break and sell homemade bread, drinks, and local products. Please stop by when you are out for a walk or cherry blossom viewing.
Currently, we are focusing on measures to extend the lifespan of Yoshino cherry trees and planting Kawazu cherry trees.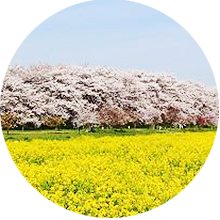 The Cherry Blossom Festival
At Gongendo Sakuratsutsumi, the Cherry Blossom Festival is held from late March to early April every spring.
At this time of year, Gongendo Sakuratsutsumi, you can enjoy a wonderful contrast between the pale pink of the tunnel of cherry blossoms and the yellow of the mustard field.
Product shops also open on the bank, and it is crowded with many cherry blossom viewing visitors.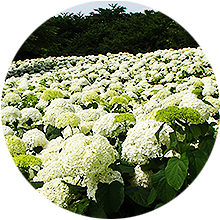 While Gongendo Sakuratsutsumi is very famous for its cherry blossoms, volunteers have planted hydrangea flowers with the idea of "flowers that bloom every season even after the cherry blossom season is over."
Now there are about 10,000 hydrangeas of 100 species, and they add color to the cherry blossoms of Gongen-do in June.
Please enjoy the hydrangea that blooms moistly in the rain with a different beauty from the gorgeous cherry blossoms.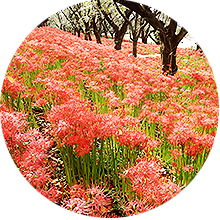 The Cluster amaryllis Festival
From September to October, Gongendo Sakuratsutsumi turns bright red.
Since 2000, we have planted manjushage (red spider lily) in the hope that it will be a seasonal flower in addition to cherry blossoms.
Manjushage is also called cluster amaryllis because it blooms during the autumn equinoctial week.
If anything, the name higanbana may be more familiar.
With the arrival of autumn, red spider lilies bloom all over the bank.
Carefully nurtured by citizen volunteers, the number has now increased to about 3 million. The red spider lily blooming in the midst of greenery is truly a healing space.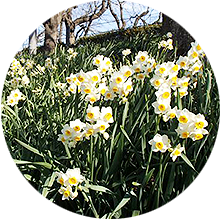 Members of the NPO Satte Gongendo Sakuratsutsumi Preservation Society planted and nurtured them with great care.
Please come and see the lovely white daffodils that bloom dignifiedly in the cold winter.